Summerfields Friendly Village, Williamstown, New Jersey:
In your own backyard– Sometimes taking a step back helps guide the future.
At Summerfields Friendly Village in Williamstown, New Jersey, you can enjoy life in a beautiful and affordable home, as well as enjoy interesting things to do within a short drive. Come enjoy a lifestyle you've always dreamed about in this all age community. It is a community of thoughtfully arranged manufactured homes along shaded tree-lined streets, and it's active from the community clubhouse to the Olympic-size outdoor pool. A variety of recreational opportunities such as golf courses, historical sites and campgrounds abound in the area surrounding Summerfields Friendly Village.
Philadelphia and Atlantic City are only a short drive away, as are both boating and fishing along the famous New Jersey inland waterway.  You know that in real estate they say it's all about location, location, location. Summerfields Friendly Village is all about location. Living well in a friendly and beautifully designed home and community really says it all. Many of the activities, points of interest are virtually in your back yard so there's lot to do and see. That said, here's an introduction to The Museum of American History in Deptford Township, New Jersey, only 21 minutes away
Looking back to move forward
The Museum Of American History in Deptford Township, New Jersey has maintained a vibrant history, and it may be one of the best kept secrets of the area. It offers something that lived in the past, and holds importance to modern days. This is the case with the museum's exhibit of World War II uniforms, propaganda posters from the war office, a Nazi flag, photographs, letters, newspaper clippings that detail events in the aftermath of the Pearl Harbor attack, a collection of U.S. coins and other memorabilia.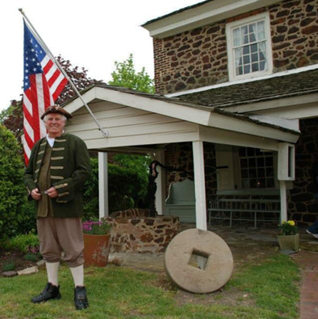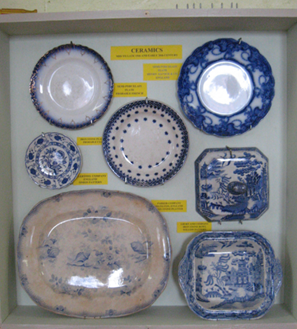 Jeffery Norcross, curator and archaeologist owns the museum. He is a graduate of the University of West Florida, with degrees in history and religion. He has undertaken field work at over 120 historical sites and has been Curator of the South Jersey Museum of American History for over 20 years. A large percentage of the museum's items have been collected by him.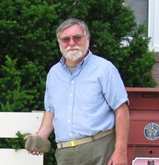 As noted in the April 2019 article of The Deptford Sun, by Eldon Graham, Mr. Norcross said, "I curated the stuff, and my friends put the word out that we needed World War II stuff because we wanted to open the exhibit up." With a little help from his friends and those in the community he was finally able to establish the WWII exhibit.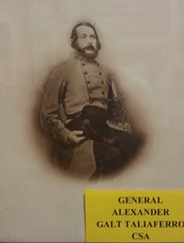 In the same article of The Deptford Sun, Ed Kalinowski is mentioned. He is a member of the Deptford Board of Education. His father fought in the war. He was quoted, "I'm glad to see there is an interest from that conflict. When I was in school, I always enjoyed history, and it's nice to see that those veterans aren't forgotten."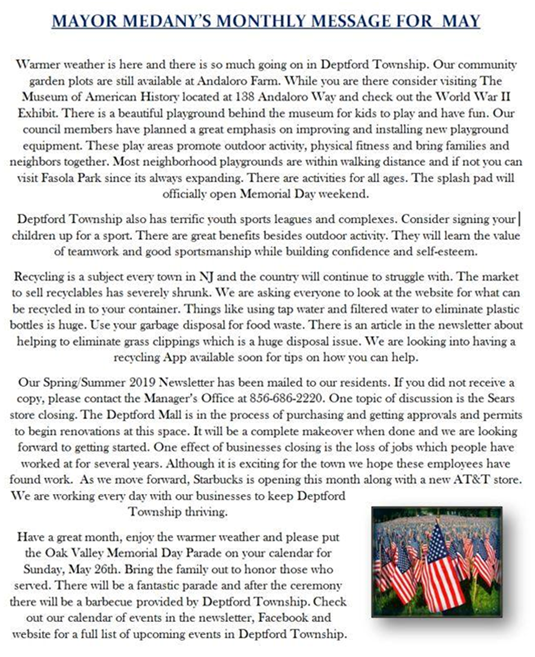 "We are so honored that the Mayor mentioned the Museum and the World War II Exhibit in his May Message! Thank you Mayor Medany!"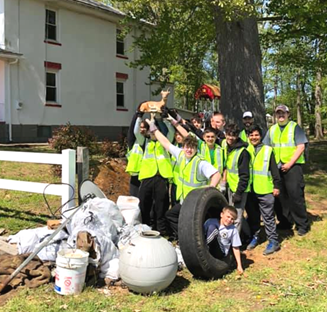 Thanks so much to the Deptford Junior Wrestling Team for all of their hard work cleaning up the grounds surrounding the Museum of American History at Deptford, NJ. Great job everyone!!
Although we don't always take heed of past experiences, they can teach us a great deal about ourselves and society. It's easy to forget those who came before us and helped assure our future.
That's one of the reasons that the Foundation of the South Jersey Museum of American History (a non-profit institution), is dedicated to the preservation of South Jersey's History and the exhibition of it in connection with American History:
Pre-Columbian Native American
Colonial and the Pine Barrens
Antique Tools and Equipment
Farmsteads
Fossils
Local Deptford History
Throughout the year, the museum also provides Toy Train and Art Shows, Special Exhibits, Classes and Field Trips.
The Museum
The Foundation was established in 1993 to preserve South Jersey's history and to exhibit it in connection with American History. In 1996, the South Jersey Museum of American History opened in Berlin, Camden County, NJ.  In January of 2017 the now renamed Museum of American History in Deptford, NJ, moved to its present location in Deptford, New Jersey.
The museum will offer a Civil War Exhibit, in August through September, 2019. The U. S. Civil War is among the most tragic, inspirational, fascinating and studied periods in American and world history. The museum invites you to see the exhibit featuring historical artifacts, artwork and memorabilia as they honor those who fought, and those who gave their lives in unrivaled numbers, to forge the country we all share today.  The museum is open Thursday through Sunday from 10 a.m. to 3 p.m. Visit: southjerseymuseum.org  for more information about the museum and its current WWII exhibit.
Join us at Summerfields Friendly Village for a great life experience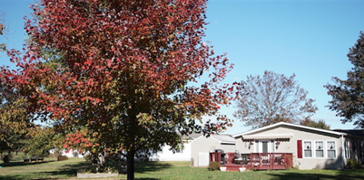 Life and lifestyle are synonymous when you own a home at Summerfields Friendly Village in Williamstown, New Jersey. You'll live in a virtual maintenance-free home and enjoy wonderful neighbors.
255 Village Parkway, Williamstown, NJ 08094   856-885-1219