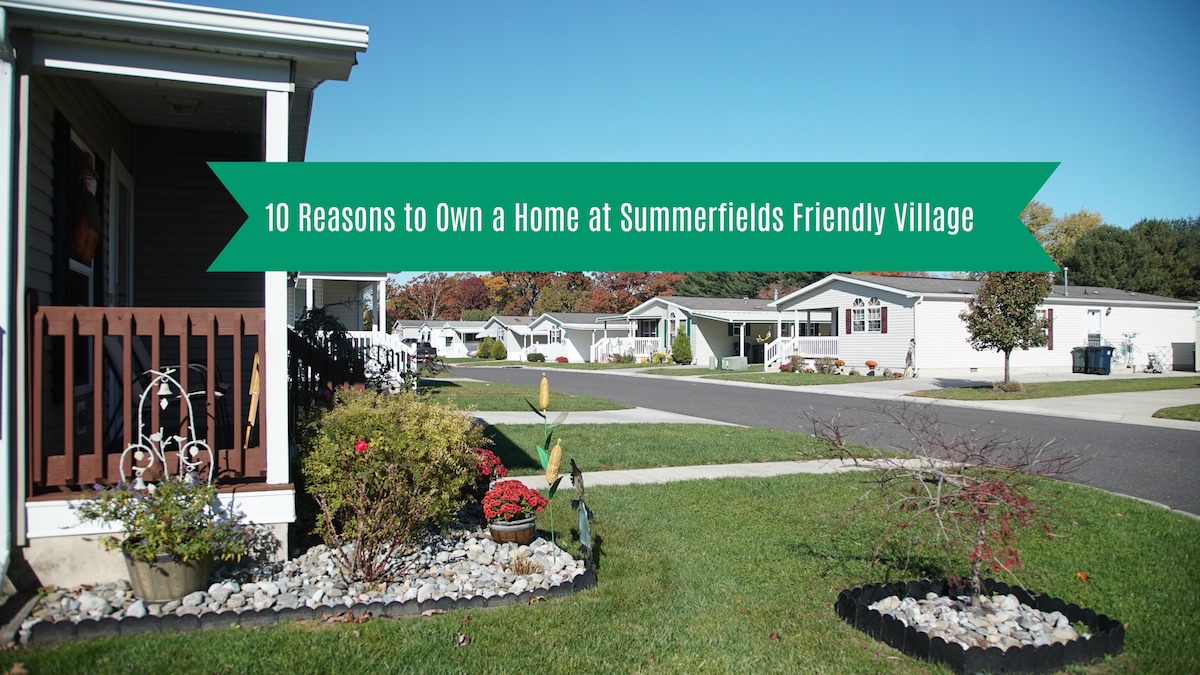 It's not just a house, it's a unique lifestyle
Living in Style
Spacious living and dining rooms with state-of-the-art kitchens and low maintenance exteriors make life casual and enjoyable. Each of our manufactured homes comes with a storage shed, and can be customized to meet each homeowner's individual needs. Summerfields Friendly Village is a community of 600 home sites and is situated in the heart of the New Jersey Pinelands. You'll be happy to know that affordability is a cornerstone of Summerfields Friendly Village.
Distinctive Manufactured Home Designs
There's four beautiful and quite distinctive two bedroom, two full bath home models from which to choose:
Unique Benefits to You
You will enjoy many unique benefits in a home at Summerfields Friendly Village. Here are a few:
As a land-lease community you'll have no real estate taxes.
No water bills or sewer fees to pay.
There's virtually no closing costs.
Manufactured homes are energy efficient.
Modular construction uses less material without compromising a building's structural integrity so you support green initiatives.
An Active Community
Since moving to Summerfields Friendly Village, residents are always saying that, "They've never been as active as since they moved here." It's about enjoying friends and family and taking advantage ofd the many activities that go on regularly. It's all part of what makes it a true community.
Customer Service at Summerfields Friendly Village
Homeowners at Summerfields Friendly Village, Williamstown, NJ 55+ community, are happy in their new homes, and enjoy new friends and all that the community has to offer. The whole concept at Summerfields Village is not merely to buy a house but to create a lifestyle that makes a real difference in everyday living.
Lovely Neighbors, Safe Neighborhood
The sense of being part of a community is a major advantage. Neighbors here know and care and watch out for one another. The bond of trust and mutual dependence becomes second nature. The community is truly unique.
Summerfields Friendly Village, a Perfect Fit for Active Couples
The location of Summerfields Friendly Village Community is that it's not only easy to get to work, but you can enjoy the entertainment, casinos, sports and cultural benefits of Philadelphia anytime you choose; even the Jersey Shore, for that matter. Everything else you want and need, such as shopping, our church, doctors, hospitals and restaurants are just minutes away. Enjoy your own private get away home while only being minutes away from whatever you want. The perfect combination.
Flexible Custom Manufactured Homes
One of the most popular factors in purchasing a home in Summerfields Village is the flexibility of choices to the homeowner. They many options and the flexibility to customize your home is the hallmark of Summerfields Friendly Village in Williamstown New Jersey. The ability to customize helps create a personal statement of your lifestyle needs.
Location, Value, Customization all Highlight Summerfields Friendly Village
Our community continually enjoys their homes at Summerfields Friendly Village , in Williamstown, New jersey because every detail has been well thought out. You get the best location, the highest value for much less cost, and you get to customize the lifestyle you want.
When you want more than a house
Summerfields Friendly Village has so much to offer you, both close by and within the region. What a beautiful concept, one you can enjoy every day. What's more you benefit from it all at unmatched affordability and value. It's a community and more…it's a living experience. Schedule a visit and we'll show you around. Meet some of the people who are already enjoying this well thought out community and find out why they said, "I really like it here."
Backed by the award-winning Temple Companies. Since 1955, the family owned and operated The Temple Companies have brought fine quality, affordable homes to families of all sizes and ages throughout the country.
Seeing is Believing
Nothing beats seeing all this and more by visiting Summerfields Friendly Village community. Ask salesperson for a comprehensive list of custom additions for your new home.
Contact us today so you don't miss out on a great opportunity to change your lifestyle for the better.