Very likely many of us at one time or another head the words, "That's just pie in the sky," as response to some notion or dream or goal we announced. Typically those words were effectively discouraging. I had a friend in younger days who lived in Germany. His father, and his father, and his father were all engineers. When he announced that he wanted to work as an illustrator in advertising, he heard the words, "That's just pie in the sky (in the German version), we are all engineers in this family."  He was promptly told that he would continue the family tradition and besides, his father noted, doing drawings would leave him starving in the street.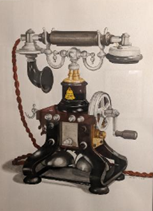 Here is one of his illustrations
Not to be deterred, my friend finally convinced his father and came to the USA for a few months to investigate opportunities. He showed his portfolio of illustrations to a few ad agencies and was hired right away. He worked in the agency for a year. He then returned to Germany and opened his own graphic design firm which became extremely successful. So when you hear pie in the sky, reach up, grab it and eat a big slice.
Summerfields Friendly Village, a pie in the sky success.
Those who hold on to their passion do get to reach for the pie. Summerfields Friendly Village, all age community exists because the designers and builders did just that. And you and many others can now enjoy the dream. So come join us and be part of it. Call us today.
255 Village Parkway, Williamstown, NJ 08094   856-885-1219