Quality living: the benefit of manufactured homes
Great outcomes start with ideas to makes things better
As they say, "We've come a long way, baby!" Manufactured homes have come through a history of service and improvement. Such is the case with Summerfields Friendly Village, conveniently located just off the Black Horse Pike in Williamstown, New Jersey. In this unique community every home is designed based on a master plan to ensure fine quality, affordable homes to meet the needs of families of all sizes and ages. Construction of manufactured homes have quite a history; a few highlights will be useful.
When veterans came home
After World War II ended, veterans came home and needed housing but found homes to be in short supply. At the time, mobile homes provided low cost entry, and were quickly built.  These were prefabricated structures transported to a site where they were used as permanent homes or for temporary accommodations.
In 1976, Congress passed the National Manufactured Housing Construction and Safety Act which assured that all homes were built to stringent national standards. And in 1980 the term "mobile home" changed to "manufactured home," because the building techniques had changed, and there was a difference between the two designs.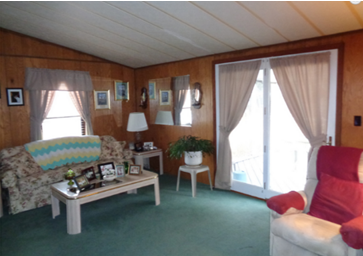 Beauty that's detailed and practical
Today, Summerfields Friendly Village, all-age community of manufactured homes are built in a controlled factory environment, conforming to the strictest and most demanding federal building code. Summerfields Friendly Village offers buyers fresh designs, spacious layouts, price ranges that meet many lifestyles, and an array of attractive features that provide the luxury of personalizing their homes.
The Temple Companies family takes great pride in their premier manufactured housing communities. They look beyond the mere idea of building manufactured homes; they build communities where lifestyle is every bit as important as the home's design.
Today is the opportunity
Every Temple Companies home comes with blinds and a drapery package as standard features. Here's a small sampling of ways you can choose to personalize your home:
Adding square footage to the house
Add French doors
Detached garage
Add a deck
Kitchen cabinet pull-outs
Quality and value, you can actually experience it when you come to Summerfields Friendly Village all age community. You will enjoy a pleasant time touring our community and seeing the unique lifestyle that you can enjoy. Contact us today:
255 Village Parkway, Williamstown, NJ 08094   856-885-1219