From Sky to Table.
Enjoy something new right near Williamstown, New Jersey
Summerfields Friendly Village is conveniently located just off the Black Horse Pike in Williamstown, New Jersey. In this unique community every home is designed by a master plan to ensure fine quality homes that are affordable to meet the needs of families of all sizes and ages. Not only are the homes and community a delight and an experience in quality living, Williamstown itself is located near many attractions and things to do. In Wildwood, New Jersey for instance, here are two venues you can enjoy and it's only about an hour away:
Wildwoods International Kite Festival
The largest kite festival in North America is back featuring kite makers from around the world; the largest event of its kind in North America.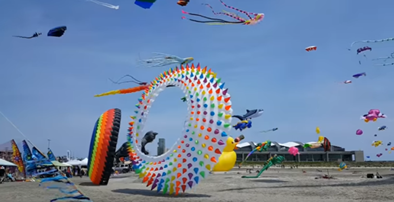 If you live in Summerfields Friendly Village, NJ, you'll appreciate the beauty.
You'll watch some of the most amazing colorful kite creations you've ever seen. This event begins on Friday at noon with the 'Unlocking of the Ocean' media event on the beach behind the center.
It all starts flying on May 24-27th so plan now. Special events include an illuminated kite fly, sport-kite demonstrations, and an indoor kite competition in the Wildwoods Convention Center. Festivities continue with the opening of the Festival Field Tent and the 9:00 pm illuminated kite fly at Rio Grande Avenue.
A short trip from Summerfields Friendly Village, Williamstown, NJ
Saturday and Sunday include the East Coast Stunt Kite. This is a championship on the beach starting at 9:00 am daily. There are also kite exhibits and workshops.
Plus, there's a Kite Festival Auction on Saturday night where many unique kites and collectibles will be auctioned off.  Then Monday will feature the World Indoor Kite Competition starting at 11:00 am inside the center. The kite fliers will showcase their impressive ability to fly a kite without wind. There's no charge to attend. This is an extraordinary color extravaganza you really should experience, and it's only an hour away.
The Downtown Wildwood Farmer's Market Season  6 Kick-off
The sixth annual Downtown Wildwood Farmer's Market will kick-off its 2019 Season at 8:00 a.m. on May 4th, rain or shine. Everything begins with featuring a kick-off ceremony and unveiling of the season's DOOWW magnet designs!
The market also features farm fresh fruits, vegetables, flowers, plants, homemade baked goods, honey, wine, and guacamole.
Plus you'll find an assortment of herbs, nuts, organic tea, jams, jellies, jewelry, soaps, artwork, fashion items, plums, blueberries and fantastic Jersey Tomatoes. There will be a live broadcast from 98.7 The Coast radio every week.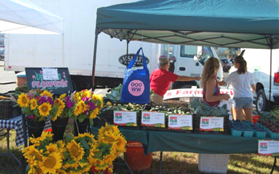 You'll be delighted by a host of friendly vendors that are so welcoming and love to have you sample their delicious foods. There's music for everyone, games and clowns for the kids.
Here's an additional at-a-glance look at what's there:
Food trucks, as well as tented food and non-food vendors!
Chocolate candies, fudge, cookies, wine, cheesecakes & more!
Balic Wines, Laurita Wines and Mud Hen Craft Beers samples and sales!
Sangria & Sangria Slushies!
Bounce House, Inflatable Obstacle Course
Lawn Games
The John Hay Cigar Bar!
Guess how many corks in the giant wine glass all weekend
Live Music each day from 2 to 6 pm: Bittersweet Duo on Saturday and Keith Hickman on Sunday!
Relax around the Fire Pits!
Parking is free. The market is located at Byrne Plaza, Oak and Pacific Avenues, Wildwood. And be sure to check out all the great shops and restaurants while you're downtown! For more information, call 609.523.1602
High value design
Summerfields Friendly Village offers buyers fresh designs, spacious layouts, price ranges that meet many lifestyles, and an array of attractive features that provide the luxury of personalizing their homes.
The Temple Companies family takes great pride in their premier manufactured housing communities. They look beyond the mere idea of building manufactured homes; they build communities where lifestyle is every bit as important as the home's design.
Today is your opportunity
Quality and value is something you can actually experience when you come to Summerfields Friendly Village all age community. You will enjoy a pleasant time touring our community and seeing the unique lifestyle that you can enjoy. Contact us today:
255 Village Parkway, Williamstown, NJ 08094  856-885-1219